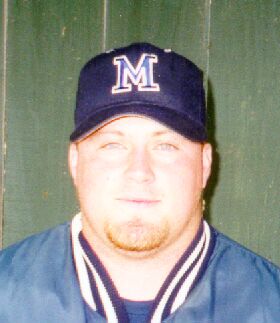 40 Justin Weaver


Position: C/P
Bats/Throws: R/R
Year: Junior
Height: 6-0
Weight: 210
Born: Sonoma, CA





2000: Looks to be backbone for the Oaks both behind the plate, as a pitcher, and with the bat.

1999: Saw time at both catcher and pitcher last season…In only 26 AB's, collected 8 RBI's…His 4 saves place him 2nd all time behind only Matt White (7)…Led the team with appearances with 16.

1998: Saw action in 17 games, starting in 7… Hit .400 with 12 hits in 30 at-bats, good for second on the team…Rapped out 3 hits in 4 trips to the plate in a 12-7 loss to Redlands (3/15).

High School: Played for coach Bob O'Gorman at Sonoma Valley High School…Was an All-League and All-Empire selection in football.

Personal: Born March 28, 1979…Major is Business Administration…Three year star for Oak football team…Hobbies include hunting and paintballing…Son of Jan and Dorothy Weaver.



Career Stats
Year   	  Avg	GP/GS    AB     R     H    2B    3B    HR    RBI    BB     K
1998	 .400	17/7     30     8    12     1     0     1      7     1     6	
1999	 .346   25/6     26     8     9     1     0     0      8     7     7
Totals   .375   42/13    56    16    21     2     0     1     15     8    13  

Year	  ERA	 G/GS	 W-L     CG    SV     SHO      IP     R-ER    H     K    BB
1999	 7.59    16/1    0-2      0     4       0    21.1    20-18   28    17     9