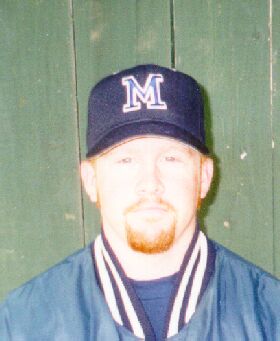 9 Rusty Signorelli


Position: 3b
Bats/Throws: l/R
Year: Junior
Height: 5-5
Weight: 150
Born: Lompoc, CA






2000: Looks to lay claim of third base and will bring a hard nosed attitude to the plate.

1999: After playing many games at third, stepped in to play short when the Oaks needed him…Went 2-5 with a triple and 2 RBI's vs. Moravian (3/12)…Was spectacular vs. Claremont (3/14), hitting 3 doubles and driving in 5 runs on a 4-5 day at the plate.

1998: Hit .250 in 14 games…Three of his seven hits were doubles…First collegiate basehit came in 1 for 3 day against Eastern Washington (3/22)…Knocked out a double and an RBI vs. Cal Tech (3/28).

High School: 1997 graduate of Lompoc High School...Was a second team All-Northern League Selection...Possessor of, according to Lompoc Record writer Bob Wiener, "one of the smoothest swings…ever seen" in the central coast.

Personal: Born February 16, 1979...Major is Management… Hobbies include collecting music, taking pictures, and hanging out with family… Favorite television show is La Femme Nikita…Favorite bands are Creed and Metallica…Lists favorite solo artist as BabyFace…Last held job was at Chili's…Favorite movies include My Life and For the Love of the Game…Favorite player is former Atlanta Brave Mark Lemke…Son of Larry Signorelli and Shirley Rizzoli.



Career Stats
Year	  Avg     GP/GS     AB	   R	 H    2B    3B    HR    RBI    BB     K
1998	 .250     14/7      28     6     7     3     0     0      8     5     3
1999	 .315     27/23     89    12    28     5     1     0      9     8    10
Totals   .299     41/30    117    18    35     8     1     0     17    13    13