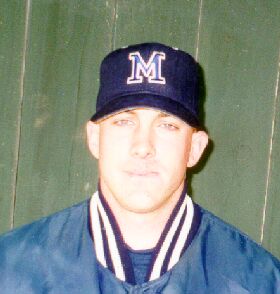 34 Ryan Johnson


Position: P/U
Bats/Throws: R/R
Year: Junior
Height: 6-1
Weight: 200
Born: El Dorado Hills, CA




2000: Transfer, who joined the Oaks in January, will provide depth on the field as well as on the mound.

1999 (JC): Played with current Oak Jason Morris at Consumnes River.

High School: At Elk Grove High School, was named MVP both his sophomore and junior year…Played for Coach Dreher.

Personal: Born October 9, 1976…Hobbies include golf, bowling, pool, and studying…Lists most memorable moment as pitching a no-hitter while playing for Consumnes River…Majoring in Sports Management.