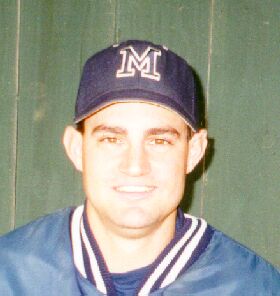 17 Dave Nix
First Base Coach
Hitting Coach
Outfield Coach
1st Year
David Nix begins his first season on Blair Neagle's staff. This season, Nix will serve as first base coach as well as coaching the outfielders. Just as the other members of Neagle's staff, Nix brings with him impressive knowledge of baseball.

A native of Mission Viejo, Ca., Nix graduated with a major in Communications from the University of California at Davis in 1996. While at UC Davis, Nix posted impressive offensive numbers.

Nix was a 2 time Division II All-American in 1995 and 1996. He was voted the NCAC Player of the Year in 1996. Nix still holds several offensive records at Davis, including the single season hit record which he set in 1995. He is the last member of the Davis baseball team to bat over .400. After a stellar career at UC Davis, Nix took his talents to the professional ranks, where he played for the Sonoma Crushers of the independent Western Baseball League. He lists his biggest sports thrill as playing in the Division II College World Series. Played against current Oak pitching coach Ken Bowman while Bowman coached at USF and Nix played at UC-Davis.

An avid golfer, Nix works as a pharmaceutical sales representative. Nix is currently single, but does have a girl friend, Sarah, who in Law School. Nix currently resides in Millbrae.