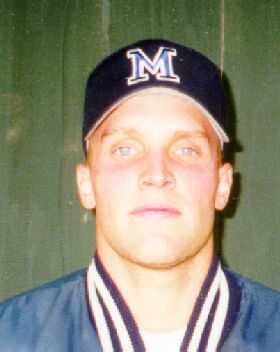 4 Jason Morris


Position: OF/1b
Bats/Throws: R/R
Year: Junior
Height: 5-10
Weight: 190
Born: Sacramento, CA






2000: Utility player will add a strong bat to the lineup.

1999: Appeared a lot in the second half of the year…Has a steady eye at the plate striking out only 4 times while walking 7 times…Provided 2 homeruns, including 1 during the UCSD tournament...Appeared at first base and catcher during the year.

1998 (JC): Played for coach Brad Peck at Cosumnes River JC in Sacramento…Was a teammate of fellow Oak Ryan Johnson.

High School: 1996 graduate of Florin High School…Prepped his first three years at Elk Grove High School…Named second team All-Delta as junior and earned student-athlete team award senior year…Also earned All-League honors in football.

Personal: Born June 7, 1978…Major is communications…Hobbies include working out and playing in pick-up games…Works as a personal trainer…Son of Dennis and Susan Morris.



Career Stats
Year	 Avg    GP/GS    AB	R     H	   2B    3B	HR    RBI    BB     K
1999	.424    24/13    59    14    25     1     1      1      7     7     4