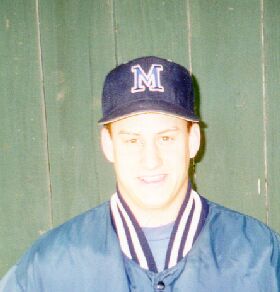 6 Casey Knapp


Position: 2b
Bats/Throws: R/R
Year: Junior
Height: 5-7
Weight: 150
Born: Beaverton, OR




2000: Will provide solid defense and provide a strong bat.

1999: Suffered season ending finger injury vs. California Christian (3/2)…Hit .226 but came on late before being lost for the season…Did contribute 7 RBI's in short season.

1998: Hit .341 which was second among everyday players…Started 26 of 31 games in which he played…Made just 5 errors in 107 fielding chances (.953 FP)... Went 4 for 8 with 3 RBI's vs. CSU- Monterey Bay (4/11).

High School: 1997 graduate of Westview High School…Was voted second team All-League in 1997 and honorable mention All- League and Top Defensive Player in 1996.

Personal: Born November 6, 1978…Major is undecided…Hobbies include video games and computers…Recently held a job as a computer technician…Son of James and Brenda Knapp.



Career Stats
Year	   Avg   GP/GS     AB     R     H    2B    3B	  HR    RBI    BB     K
1998      .341   31/26     88    21    30     5     0      0     10    11    14	
1999	  .226   11/11     31     8     7     1     0      0      7     8     8
Totals    .311   42/37    119    29    37     6     0      0     17    19    22