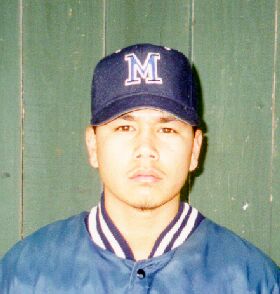 1 John Paul Sugiyama


Position: Pitcher
Bats/Throws: S/L
Year: Freshman
Height: 5-9
Weight: 165
Born: Koror, Palau




2000: Lefty pitcher will provide team with valuable time on the mound.

High School: Did not participate in high school baseball because of no program, but did contribute greatly to local baseball leagues. However, did play basketball for high school team for four years.

Personal: Born August 10, 1981….Major is International Business….Hobbies include reading, watching television, surfing the Internet….Roots for Seattle Mariners and Boston Red Sox…. Favorite players are Ken Griffey Jr. and Pedro Martinez….Favorite dinner dish is eating fish and meat….Lists biggest honor as being given awards for community service as well as for grades….Sister Myra Roseline Sugiyama is a Menlo College graduate….Son of John and Mary Sugiyama.