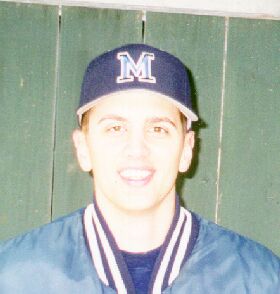 27 Matt Johnson


Position: P
Bats/Throws: R/R
Year: Junior
Height: 6-2
Weight: 185
Born: Portland, OR




2000: Crafty veteran should help provide innings for the Oaks.

1999: Pitcher struggled through arm injuries but rebounded to help provide leadership and innings…Had a 0-1 record in 5 games.

High School: 1997 Graduate of Lincoln High School...Was a three year letterman and was named to the Oregon Baseball Academy All-Tournament team as a starting pitcher in 1996.

Personal: Born January 4, 1979...Major is Mass Communications...Hobbies include golf, music…Favorite television show is ESPN Sports Center…Lists favorite athletes as Chris Miller and Greg Maddux…Wants to pursue and career in sports broadcasting…Biggest sports thrill is stealing two bases against CSU-Monterey Bay…Is Son of Robert and Nancy Johnson.



Career Stats
Year	  ERA	 G/GS	 W-L    CG    SV    SHO    IP    R-ER    H    K    BB
1999	 7.71	 5/1	 0-1	 0     0      0   7.0    9-6    14    4     1